Ready to get serious about your online marketing strategy?
Talk to a Whole Brain Group expert about how a smart marketing strategy can help your company generate more traffic, leads, and sales.
Your consultation includes:
30-minute phone call or web conference with one of our Smart Marketing Consultants
An evaluation of your current marketing efforts, including social media, blogging, and SEO
Expert advice for next steps in generating more online traffic, leads, and sales
Schedule your Free 30-Minute Consultation
---
About The Whole Brain Group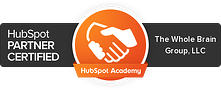 The Whole Brain Group specializes in helping companies use inbound and digital marketing techniques like blogging, social media, and email marketing to drive website traffic and generate leads online. Our HubSpot and Inbound certified experts work with growing companies who want to scale their marketing without scaling their overhead by hiring a large in-house team. We also provide training to help clients who want to keep costs down by doing some of the work themselves. Learn more about our team on The Whole Brain Group website.